As you might know from my VMware vSAN powered Home Lab setup, I use an Intel Optane 900P Disk for the Caching Tier, and a Samsung 850 PRO 1 TB SSD Disk for the Capacity Tier. With just 3 ESXi hosts in my deployment, this gives me around 3 TB of raw disk space.
In addition with a Failure to Tolerance Policy (FTT) of 1, vSAN will perform a RAID 1 in the background, and therefore the raw disk space is cut down to only 1.5 TB. Therefore I have added last week on each ESXi host one additional Samsung 850 PRO 1 TB SSD Disk, so that I can double the disk space in the Capacity Tier.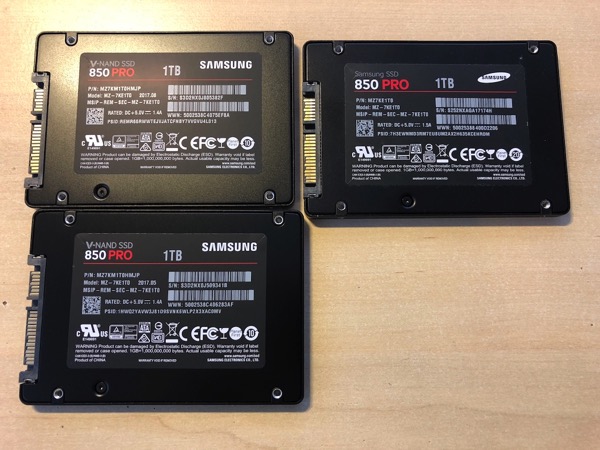 In this blog posting I want to show you the step that you have to do to add disks into a vSAN powered Disk Group.
Note: the Samsung 850 PRO disks are NOT on the compatibility list of VMware, so please don't them in a real production environment!
Host Preparations
Before you can add the additional installed disks into the vSAN Disk Group on each ESXi host, you have to prepare them on the host itself. As you know from my Home Lab setup, I'm using HP DL380 G8 Servers with the Smart Array P420i Disk Controller.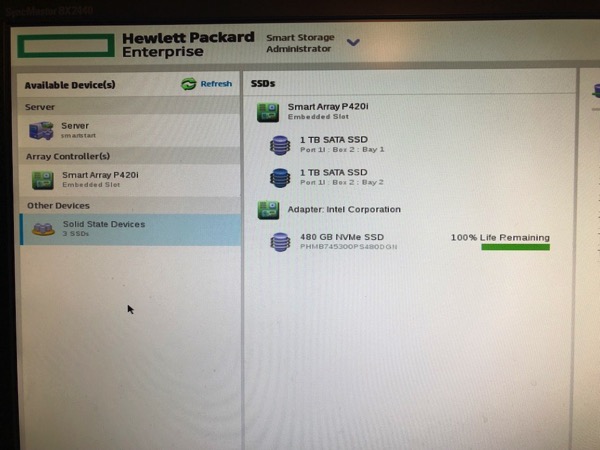 Unfortunately this Disk Controller doesn't support the Passthrough Mode (as far as I know, otherwise please leave a comment!), so I have to create a RAID0 array on top of each physical disk.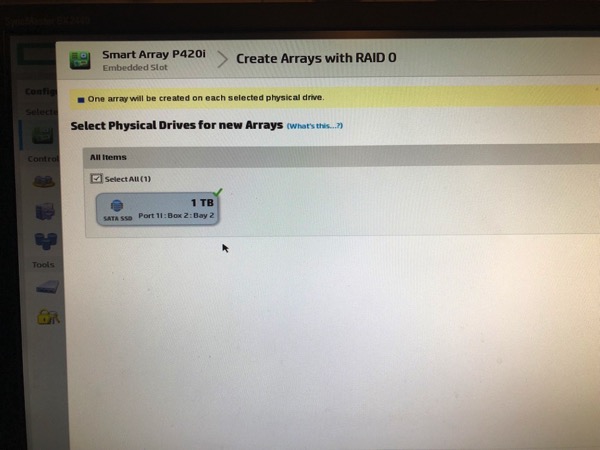 In my case I'm using now 2 RAID0 arrays (with 1 physical disk in it) on each ESXi host. And the exposed disks from the RAID0 array are finally added into the vSAN Disk Group.
Adding Disks to a vSAN Disk Group
If you want to add some new disks into a vSAN Disk Group, it is a quite simple operation: you just have to claim the additional disks to be added, and everything else is done by vSAN itself.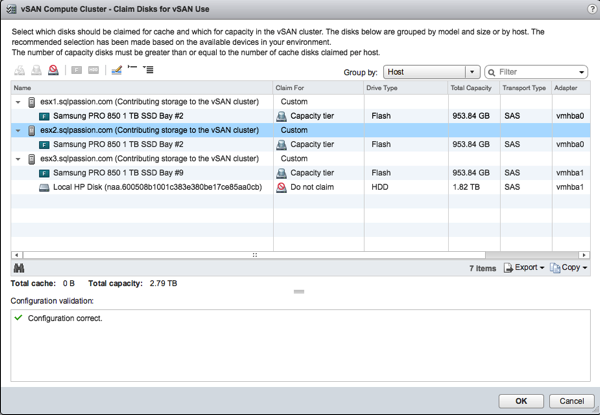 The following picture shows the reconfigured vSAN Disk Group on one of my ESXi hosts.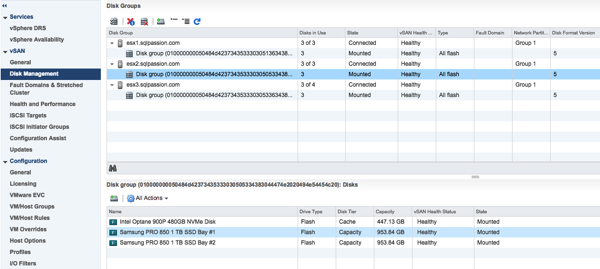 And finally I have done a quick Virtual Machine deployment where I have chosen a Failure to Tolerate of 1 and a Stripe Size of 2. In that case vSAN creates for your components a RAID 1 deployment across 2 vSAN Cluster Nodes (and the additional necessary Witness component on the 3rd host). In addition the components are striped through the 2 Capacity Tier Disks on each vSAN Cluster Node.

Easy, isn't it?
Summary
As you have seen in todays blog posting, it is quite easy to add new additional disks into a vSAN Disk Group. In my case I had to add the disks manually into my vSAN Disk Group, because my underlying Disk Controller doesn't support the Passthrough Mode. But if your Disk Controller suports the Passthrough Mode, vSAN can also claim newly added disks automatically into a Disk Group.
If you want to know more about how to Design, Deploy, and Optimize SQL Server on VMware – and especially how to run SQL Server on VMware vSAN, make sure to have a look on my webinar that I'm running from May 7 – 9 this year.
Thanks for your time,
-Klaus