Last week Brent Ozar published a blog post, where he talked about how choose a successful topic for a weblog. He gave 3 different examples of success and even failure:
Oooh, that last one – that's me! I think we should talk about it.
Service Broker – what?
I think it was back in the year 2005 (almost 11 years ago!), that I decided to write a book about Service Broker.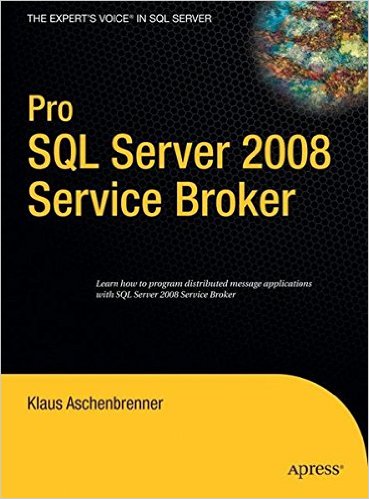 That was when Microsoft released the first CTP versions of SQL Server 2005, and as you know that version was full of new awesome features:
SQLCLR
XML
Web Services Support
Service Broker
As we know now 12 years later, almost all of these features (besides XML) are not really used anymore in SQL Server, and were also not evangelized very well by Microsoft over the years. Bummer! I simply decided to write a book on Service Broker because I loved that feature, and it was awesome for implementing a scalable, distributed database application. I have even used Service Broker multiple times in my own projects as a .NET developer (without knowing SQL Server in detail).
The book was published for SQL Server 2005, and a few years later also for SQL Server 2008. Great! But that's it! Almost nobody bought the book, because nobody knew Service Broker, and nobody had any idea what you could do and achieve with Service Broker. If you had bought the book, you would know the whole story about Service Broker. It was mostly a chicken-and-egg problem. I didn't made any profits with that book, so it was a disaster from a financial perspective. Publishing that book took about 10 months (around 800 hours) of my (spare) time.
Was it really a disaster?
So the big question is if publishing this book was really a disaster for me? NO! Definitely NOT! It was the best decision that I have ever made in my (professional) life! Because for me that book opened the door into the international SQL Server market. What does that mean?
I was invited to speak at international conferences about Service Broker (with almost empty rooms compared to the other session rooms)
I wrote other unsuccessful online articles about Service Broker
I specialized more and more in SQL Server, and learned the whole story about the relational database engine
People know me because of my unsuccessful book, and hire me now for SQL Server consulting engagements
The last point is the most important one to me: I branded myself as a SQL Server specialist with my book, and positioned myself successfully in the international SQL Server community. Initially when I wrote the book I really had no idea about SQL Server (I was just a developer). SQL Server was a black box for me: data in, data out. But over the years I have learned all the other things about SQL Server that I needed to know and I was finally able to start my own consulting business about it, and now make a living out of it.
Summary
Without the book I would definitely be doing other things these days, because I would have not been able to move full-time into the SQL Server world. And these days I don't even work with Service Broker. People hire me for completely different things: Performance Tuning! That's my main market! I have no idea about Service Broker these days. But the book was the starting point for an awesome unplanned journey that ended up here. It just happened – I didn't predict it at all.
Thanks for your time,
-Klaus