"Hot town, summer in the city. Back of my neck getting dirty and gritty. Been down, isn't it a pity. Doesn't seem to be a shadow in the city. All around, people looking half dead…"
It's hot, very hot here in Vienna! For me it's always time to cool down (from work!), relax, and work on my schedule for the 2nd half of the year. Therefore I want to give you today a quick overview where you can hear me in the upcoming months speaking about SQL Server.
SQLSaturday Denmark
I'm starting my speaking tour with the SQLSaturday Denmark, where I will give my famous talk about Latches & Spinlocks. But this time they only give me an hour of speaking time. So I'm already training fast speaking 🙂
SQLdays, Erding/Germany
From October 10 – 13 I will be at the SQLdays Conference in Erding/Germany (near Munich), where I will give 2 full-day seminar (Performance Troubleshooting & In-Memory Technologies) and 3 regular conference sessions. (Query Store, and a double session about Locking & Blocking). Speaking at the SQLdays Conference is always great, because they always serve good beer – in the evening 🙂
SQLSaturday Holland
Directly after the SQLdays Conference I'm heading to Utrecht/Netherlands for the SQLSaturday Holland. I love the Netherlands – no hills and really great for running! 😉 Besides some runs I will present a full-day seminar about Locking & Blocking (the same as at SQLBits earlier this year), and on Saturday I'm again talking about Latches & Spinlocks.
SQLpassion Workshops
Besides all these conferences I'm also running my SQL Server Performance Tuning Workshop and SQL Server Query Tuning Workshop a few times across Europe. If you are interested in these workshops, make sure to register very soon, because the early-bird price ends at July 31!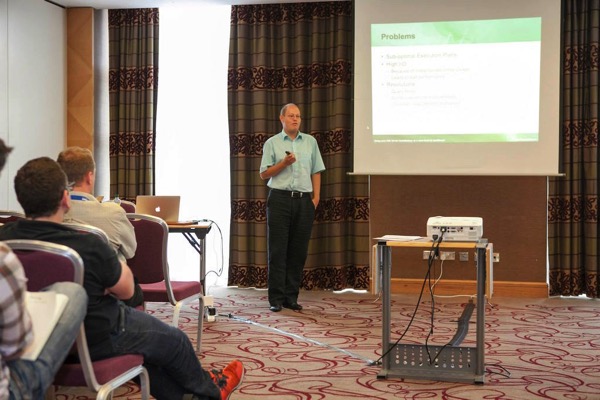 Summary
And yes, I'm NOT speaking at the PASS Summit this year. I haven't even submitted a session. Why? No idea… I've already spoken the last 10 years at the PASS Summit, so it's time to break for a year. Speaking at PASS is a huge investment (time AND money!) and therefore I've decided to concentrate this year a little bit more on SQLSaturday events.
"Cool town, evening in the city. Dressing so fine and looking so pretty. Cool cat, looking for a kitty…"
-Klaus