In today's blog posting I want to talk about the LaCie Rugged RAID USB 3/Thunderbolt enclosure that I have "tuned" for my personal needs a little bit .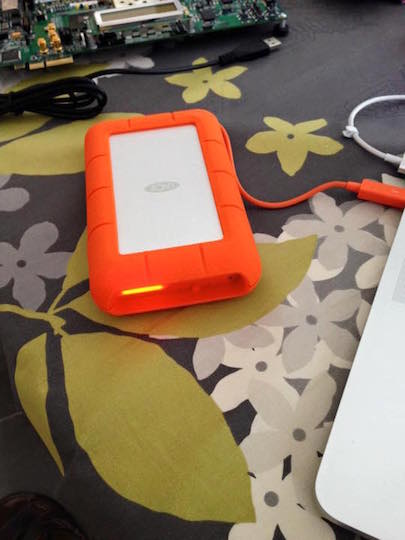 The "normal" configuration
First let's talk about the normal configuration of the LaCie Rugged RAID. The LaCie is shipped with 2x 2TB disks that you can use in a RAID 0 (performance) or RAID 1 (reliability) configuration. I bought the RAID enclosure because I wanted to store all my virtual machines in a redundant way – therefore the RAID 1 configuration is my primary choice.
The RAID setup is done directly with 2 buttons on the enclosure, and afterwards you have to format the disk within your OS. Because I'm a Apple fanboy I like the Thunderbolt connection, because it gives you great throughput, and you don't need any external power to run the LaCie Rugged RAID. Just think about that: a RAID array without any external power! It's perfect when you travel a lot and you still want to have some reliability.
The biggest problem of the LaCie Rugged RAID is that it is only shipped with "normal" spinning hard disks – there is no SSD option available. During my various tests the hard disks gave me around 80 – 100 MB/sec – that's not really that much, and you will also feel it when you work with your virtual machines. So let's fix that problem.
The "tuned" configuration
My approach was very simple: swap the slow spinning drives with very fast SSD disks!
Caution: when you follow the procedure described below you will invalidate the warranty of the LaCie Rugged RAID!!!
In my case I decided on 2x 1TB Samsung EVO SSDs – one "old" 840 and one new 850. Each disk costs you around EUR 350 + VAT. If you are really crazy you get also get the new 850 Pro 2TB disk, which costs you around EUR 800 + VAT. With that 2x 1TB SSD and a RAID 1 configuration I will finally have a storage space of 1 TB, which is currently enough for my purposes. And I still have the future option of upgrading to the 2TB disks when the prices come down.
Dismantling the LaCie Rugged RAID is quite simple: you remove the enclosure from the orange rubber, and there are only 15 screws that you have to undo to access the 2 hard disks: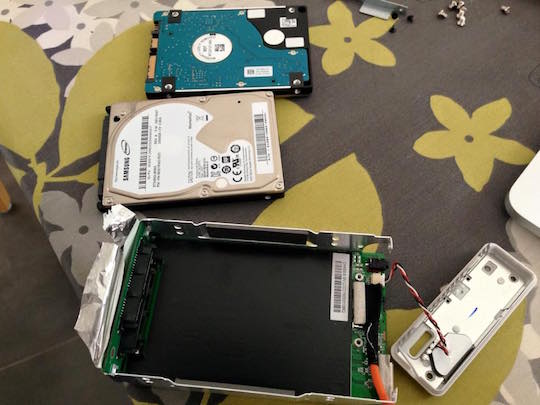 As soon as you remove a hard disk, you break the warranty approval – so if you do that, you have now *lost your warranty*: I don't need warranty, I need speed! 😉 The Samsung SSDs fit perfectly into the enclosure and they are also mounted with some screws from the side, so there is no way that they can detach.
After the exchange of the disks everything was put back together again, and finally I plugged in the Thunderbolt connection to my Mac. And wow, the drive was still recognized! Then I performed a file system initialization and ran some tests in the RAID 0 and RAID 1 configurations. Quite impressive as you can see: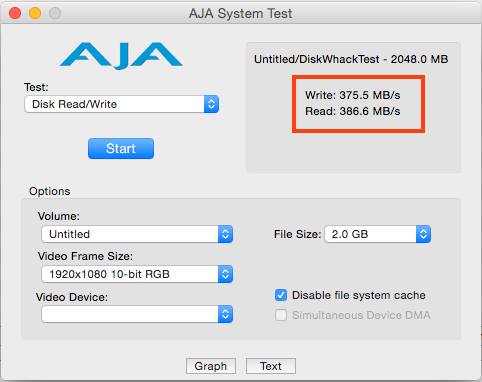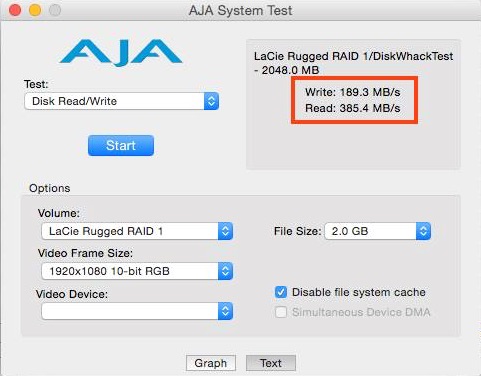 The 2 Samsung SSDs give you around 390 MB/sec read speed, and around 380 MB/sec (RAID 0) or 190 MB/sec (RAID 1) write speed depending on your chosen RAID configuration. And because of the Thunderbolt connection I still don't need any external power (I haven't even unpacked and looked at it yet…)
Summary
If you don't care about warranty and you want to have the absolute performance from a mobile RAID enclosure then the LaCie Rugged RAID in combination with SSD disks is the way to go! I'm quite happy with it, and the whole price tag for it (RAID enclosure + 2x 1TB SSDs) was around EUR 1000 + VAT. Of course it's still expensive but on the other hand you then have very fast performing and (hopefully) reliable storage for your day-to-day work.
Thanks for your time,
-Klaus