It's already a long time ago, since I spoke at SQLbits (first week of April), but yesterday the speakers got their session evaluation, and I'm very proud about the results of the 2 sessions that I have done at SQLbits:
Service Broker: Message in a Bottle
SQL Server 2008 Database Internals
The following 2 figures shows you the overall session metrics for both of my sessions: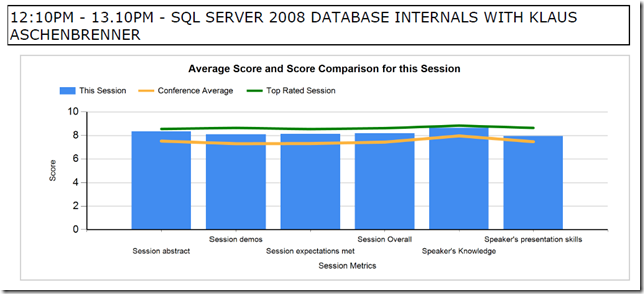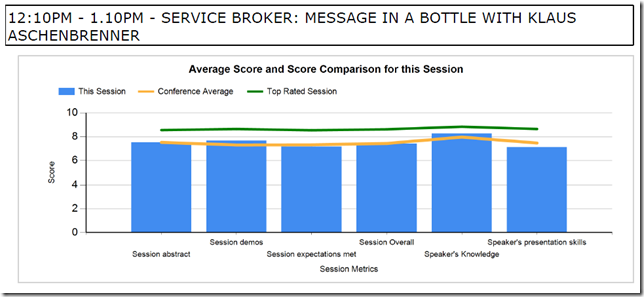 As you can see my "SQL Server 2008 Database Internals" was very high rated and nearly a top rated session
. I want to share you the feedback that I got for this session:
Best talk of the day, absolutely fantastic knowledge of the internals of SQL Server.
A very good session the presenter was also good, I learn't a lot and the speaker used a methodical and logical approach to explaining pages/extents and I/O.
Although I scored this higher than the previous session,this is on reflection after the event – I've had a few 'A-ha' moments since attending, and the content itself was brilliant – Klaus really knows his stuff in this area. It was a VERY large room to present in, the audio wasn't quite as good as some others, and the display screen was quite low so it couldn't be seen by people more than 5 rows back.
Amazing depth – thanks, Klaus! Presentation skills generally good – real passion for the subject.
Klaus is obviously very knowledgeable and a very good presenter. I think because of the deep technicality of the subject, it's easy to lose focus, especially as it was just before lunch. Although I got lots out of the session there were a couple of occasions where I drifted off a bit. This isn't a critism of Klaus – it was just a very deep session that he was cramming into one hour.
Hugely enjoyable and very professional presenter. Conveyed enthusiasm and knowledge in equal measure. Excellent!
Really great in depth knowledge.
Brilliant speaker. Speaker has a great deal of knowledge in the subject and was able to convey it effortlessly, with a little humor 🙂 Fantastic session that made the 8 hour journey well worth it.
Very entertaining presentation on a somewhat dry subject.
Very knowledgeable and engaging.
Very good session.
Great enthusiasm and knowledge.
I was working on FoxPro since last 18 years and I am in view that few features in SQL server 2005 onwards had taken from FoxPro. I am quite aware of FoxPro database/table structure and exactly what looking for SQL in last few years. It does make impact on how you design you database, when you know how it is stored.
I also attended Klaus' sessions on the Thursday; I was very very impressed with his abilities as a speaker and the way in which he went through each issue. Everything was exceptionally clear, well prepared in terms of everything being prescripted in the demos and very clear on the results and advantages to understand each aspect. I would say he was the best speaker of any session I attended during the three days.
That was very cool, Klaus. Fascinating. Perhaps not something I *need to know, but I certainly came away with a much deeper and better understanding, feeling a lot more on top of the beast that is SQL server!
Here's the feedback for my Service Broker session that I also want to share with you:
Really useful presentation especially as we are attempting to use service broker. He solved several problems I was experiencing with Service broker, including the alternative windows authentication over certification method. I would have liked to know more about the transport level issues but it was a 1 hour session and any more detail would cause the my brain to fry. it has left me wanting to go on the full day session if it is done again at SQL BITs.
Excellent presentation, as a newbie i'd not used Service Broker yet but Klaus made this an enjoyable and easy to learn experience.
Session was very good but I was expecting about how service broker can be used in HA/DR scenarios.
I attended this session to see Service Broker working as an SOA platform. Klaus demonstrated this very well.
I would have liked the session framed better in relation to other technologies and decisions to make.
The one suggestion I would make is to include a few situations where service broker would be useful vs where it might not be useful and also to compare more with other architectures that are similar (e.g. MSMQ).
Content aside (which in itself was still outstanding), this is the best delivery of a presentation I've seen in a long time.
you could see Klaus has a passion for this 🙂
Brilliant session
Klaus's enthusiasm for his subject is obvious. A really good, demo-heavy session on a subject I am not very familiar with which was engaging and fun. Very enjoyable!
The main problem that I had with my Service Broker session is TIME
. One hour is just too less to explain a fully distributed, and secure Service Broker application. Presenting a 75min or even 90min session on that topic would make it really awesome
. My (positive) learning from SQLbits is that the UK boys and girls like my presentation style and my topics, so I'm planning to do much more within the next months in the UK. Stay tuned for further information on that!
-Klaus