Are you desperately searching for a way to enhance your SQL Server skills – especially when it comes to query tuning? When you look at execution plans, do you understand how to interpret and analyze them? Are your queries slow? And yet you don't know how to fine tune them and improve them?
Because of these reasons I'm holding my SQL Server Query Tuning Workshop Online Training that will cover everything you need to know about SQL Server query tuning.
If you want to become a SQL Query Tuning Expert you can attend this 3 day long deep-dive webinar for only EUR 1490 + 20% VAT.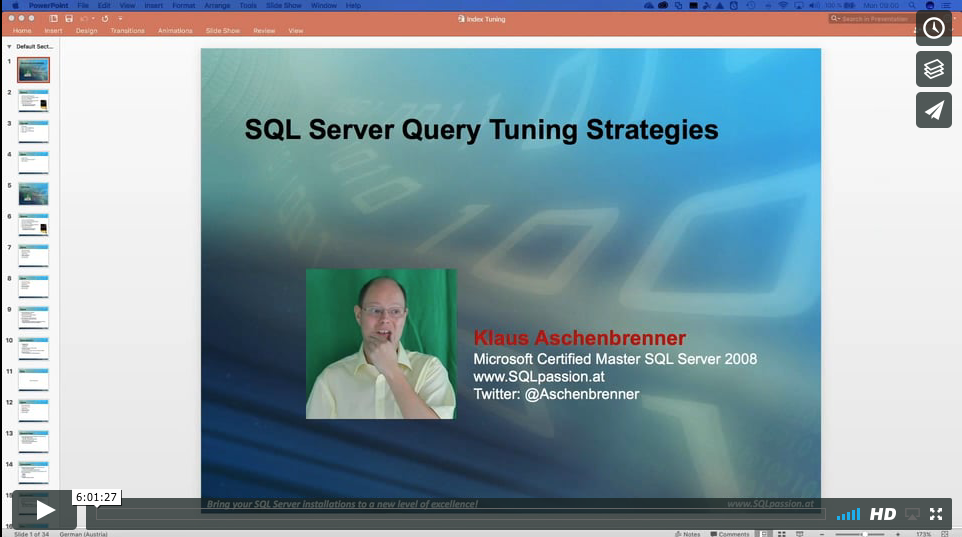 In this 3 day long webinar you will learn about:
Execution Plans

Overview
Input Trees
Estimated Execution Plan
Actual Execution Plan

How to access your data through Indexes

Clustered Index
Non-Clustered Index
Index Scans
Index Seeks

Physical Operators

Data Access Operators
Join Operators
Aggregation Operators
Spool Operators
Halloween Protection

Index Tuning Strategies

Search Arguments
Bookmark Lookup Operators
Tipping Point
Index Intersection
Filtered Indexes
Indexed Views

GUIDs as Primary Key Values

Overview
Index Fragmentation
Fill Factor
Primary Key as Non-Clustered Index
Latch Contention

Statistics

Auto Create
Auto Update
Statistics Analysis
Multi Column Statistics

Cardinality Estimation

Conjunctions
Disjunctions
Ascending Key Column Problem

Plan Caching

Adhoc Query Caching
Parameterization
Optimize for Adhoc Workloads

Parameter Sniffing

Local Variables
Recompilations
Plan Guides
This 3 day long webinar is primarily for DBAs, Developers, and Consultants who want to speed up their SQL Server installations with Query Tuning. You don't need to know anything about Query Tuning, you just need to have a basic understanding how to write T-SQL queries and stored procedures for SQL Server.
Date & Pricing Details:
Time: December 8 – 10, 2020 from 09:00am to 05:00pm (GMT + 1)
Live Web-Based Training
EUR 1490 + 20% VAT