Are you desperately searching for faster ways how to run SQL Server on top of VMware vSphere? Do you want to get the best possible SQL Server performance out from your existing VMWare vSphere deployment? Are you planning to use SQL Server High Availability Technologies (like Failover Clustering or Availability Groups) in combination with VMware vSphere High Availbility technologies (like vMotion, Distributed Resource Scheduler, or even Virtual SAN), and you are not really sure to combine then in a good way?
If you want to become an expert how to run SQL Server on VMware you can buy now this 18 hour long deep-dive webinar for only EUR 590 + 20% VAT until April 30, 2021.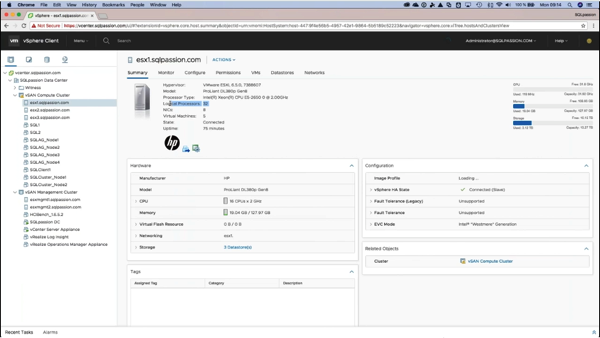 In this 18 hour long webinar you will learn about:
General Overview

Hypervisor
ESXi & VMware vSphere
VMware Tools
ESXTOP

CPU Configuration

CPU Architectures
NUMA Systems
Hyperthreading
Power Management

Memory Configuration

Host and Guest Memory Management
Locked Pages & Large Pages
Memory Reclamation Techniques

Storage Configuration

Host Datastore Design
Guest Storage Design
VMDK File Provisioning
Troubleshooting Storage Performance

Virtual SAN

Fundamentals
Cache and Capacity Tiers
Storage Policies
Hybrid vs. All-Flash vSAN
Running SQL Server on vSAN
Troubleshooting vSAN Performance

High Availability

vSphere Clustering
vMotion
SQL Server Clustering
SQL Server Availability Groups
Distributed Resource Scheduler
VM Anti Affinity Settings
Whether you are working with SQL Server on VMware vSphere since years, or if you are new to virtualization technologies – after attending my webinar you will look from a different perspective on your virtualized SQL Server.
After registration, we will send you the invoice via email. After payment you will get immediate full access to the webinar and the used slides & samples.