SQL Server 2017 was a real game changer, because Microsoft first provided SQL Server on Linux! But what's the idea and the business case behind SQL Server on Linux? And in addition – how can you run SQL Server on Docker, and use an orchestration framework like Kubernetes for it?
These are all questions that are answered in my brand-new 1 day long deep-dive online training. During the online training we will look at the basics how to install, configure, and run SQL Server on Linux. And then we will build upon that foundation and I will show you how you can run SQL Server in Docker Containers, and how to orchestrate them with Kubernetes.
If you want to become a SQL Server on Linux Expert you can buy now this 6 hour long deep-dive webinar for only EUR 190 + 20% VAT until April 30, 2021.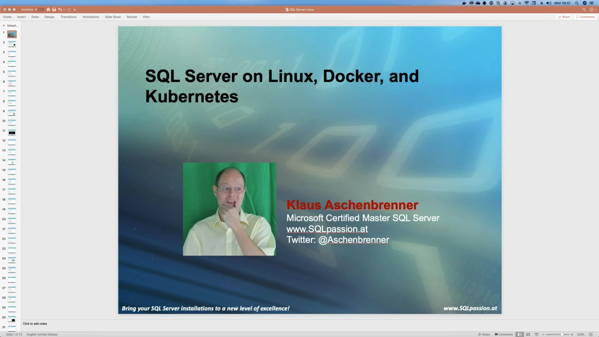 In this 6 hour long webinar you will learn about:
SQL Server on Linux
SQL Server on Docker
SQL Server on Kubernetes
This 6 hour long webinar is primarily for DBAs, Developers, and Consultants who want to know how to run SQL Server on Linux, Docker, and Kubernetes. You don't need to know anything about Linux, because I will show you all the necessary fundamentals.
After registration, we will send you the invoice via email. After payment you will get immediate full access to the webinar and the used slides & samples.